Teeth can go missing for a variety of reasons. Two common reasons teeth fall out or need to be extracted are due to gum disease and tooth decay, however trauma can also result in the loss of one or more teeth. Regardless of how a tooth or teeth go missing, you will eventually need to replace missing teeth. One of the most common tooth replacement options is dentures, especially for people who have lost multiple teeth. Like other types of dental technology, dentures have evolved over time. One main advancement in denture technology is the development of cosmetic dentures.
Cosmetic dentures are a type of false teeth that are designed to look as natural as possible. Cosmetic dentures replace the missing teeth and help you maintain your smile, however they also restore a number of other key functions such as chewing food and speaking clearly. There are three main benefits cosmetic dentures provide over traditional types: aesthetics, bone preservation, and function.
Aesthetics
For starters, cosmetic dentures are designed to look similar to your original teeth. In the past, dentures were more about function and less about appearance. They were also primarily fabricated out of acrylic, which stains easily, wears down fast, warps easily, and does not have a lifelike color or translucency. Recently, however, the aesthetics of dentures have caught up. As a result, cosmetic dentures are now being made from high quality dental materials that mimic the color and translucency of natural teeth, while also lasting longer and being more stain-resistant. This means that your dentures will look more like natural teeth and less like fake teeth. This also means that your cosmetic dentures will stay looking better for longer.
Bone Preservation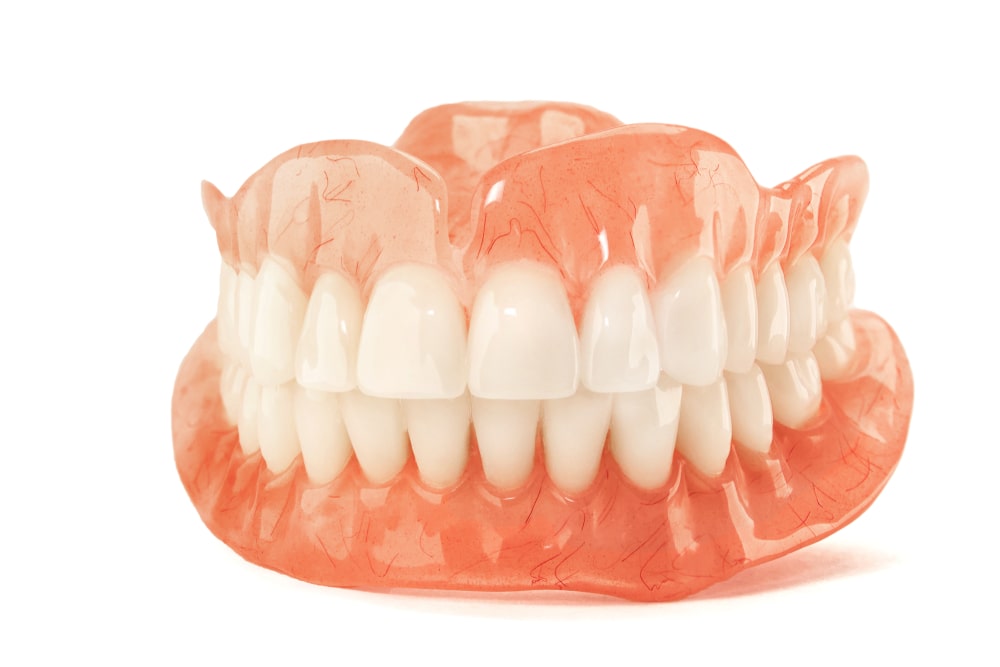 Certain types of cosmetic dentures can also be supported by mini dental implants. Mini dental implants are ultra-thin implants that are placed in the jawbone and used to anchor a denture. Even if you don't qualify for traditional dental implants, you may still be able to have mini dental implants placed, since they require less bone for placement. During the dental implant procedure, you will be carefully sedated while the implants are placed. While you will be receiving sedation dentistry, your body and mind will still be completely aware. You can communicate with our staff throughout the entire procedure and there won't be any pain or discomfort when we make incisions or place implants. This makes sedation dentistry an excellent option for people who are nervous about getting dental procedures. Once your dental implants are placed, they will provide necessary stimulation to the jawbone every time you bite down. This constant application of chewing force is what the jawbone needs in order to preserve its bone mass. Without implants, this bone mass will eventually be lost.
Maintains Function
Finally, you will want to consider cosmetic dentistry because of the fact that it will to maintain or improve a few key functions, such as eating and speaking. In the beginning, both eating and speaking may be difficult, especially if you have removable dentures. However, practicing coordinating your cheek and tongue muscles will eventually allow you to hold the denture in place while eating or speaking. People with implant-supported dentures usually have an easier time adjusting since the denture is partially supported by implants and does not require as much support from the surrounding muscles.
If you are missing teeth, it may be time to consider cosmetic dentures. Cosmetic dentures can provide three main benefits: aesthetics, bone preservation, and function. Aesthetics is the first benefit because they look similar to natural teeth while also lasting longer than acrylic-based models which stain easily and warp quickly; secondly, there's bone preservation thanks to mini dental implants that stimulate your jawbone with chewing motion (without this stimulation bones will eventually deteriorate); finally, if you have removable dentures then practicing coordinating cheek muscles will allow you to hold them in place when speaking or eating – implant supported dentures don't require as much support from surrounding muscles so adjustments come more naturally for those patients.